"They don't like tourists in Trinidad, you know, but I'm sure it'll be interesting anyway" a neighbouring passenger told me as he got off the London to Trinidad flight at its brief stopover in Tobago. It left me somewhat speechless as I waited for the plane to prepare for take-off again to my final destination of Port of Spain, Trinidad's capital. A few hours later I was sitting in a press conference with the Minister of Tourism for Trinidad and Tobago, and it was tempting to share this exchange with him, but I thought it might be best to go gently with four more days of the 14th Annual Caribbean Conference on Sustainable Tourism Development (April 2013) still to go.
The Honourable Stephen Cadiz is unlike many other tourism ministers, relaxed, in an open neck white linen shirt, personable, informal, and refreshingly honest about the challenges ahead in putting Trinidad on the tourist map. He confirmed what was immediately evident en route from the airport to the impressive Hyatt Regency Hotel, located on the water's edge of Port of Spain. Trinidad is an industrial nation, with an economy based on years of exploiting oil and gas reserves. As we looked out at the bay, peppered with freight ships, Cadiz gave us the facts: "55,000 people are engaged in the manufacturing industry here, accounting for $1billion GDP. However, that accounts for only 5% of employment. And, at the moment, tourism still only provides 6% of GDP in Trinidad and Tobago." He also stressed that, unlike other Caribbean countries, all inclusive enclave tourism is not the right direction for Trinidad, stating that "all-inclusive enclave can't be sustainable. In Trinidad and Tobago 70 cents of the tourism Dollar remains on our islands. The average for the Caribbean is 55cents, some territories as bad as 10 cents. I want to be able to go to 80 cents on the dollar. Now you are talking true sustainability. And you can't do that with the all-inclusive enclaves".
Cadiz admitted that the time had come to move away from a non-renewable energy dependent economy and that, to date, their natural and cultural heritage reserves remain unexploited for tourism purposes. "At the moment, Tobago is our leisure market destination", continued Cadiz "as a place for just chillin' and sittin' down on the beach. Then twenty miles away is this crazy place called Trinidad. We have our Carnival, of course, but now we have to start creating, branding and marketing an all- year-round product".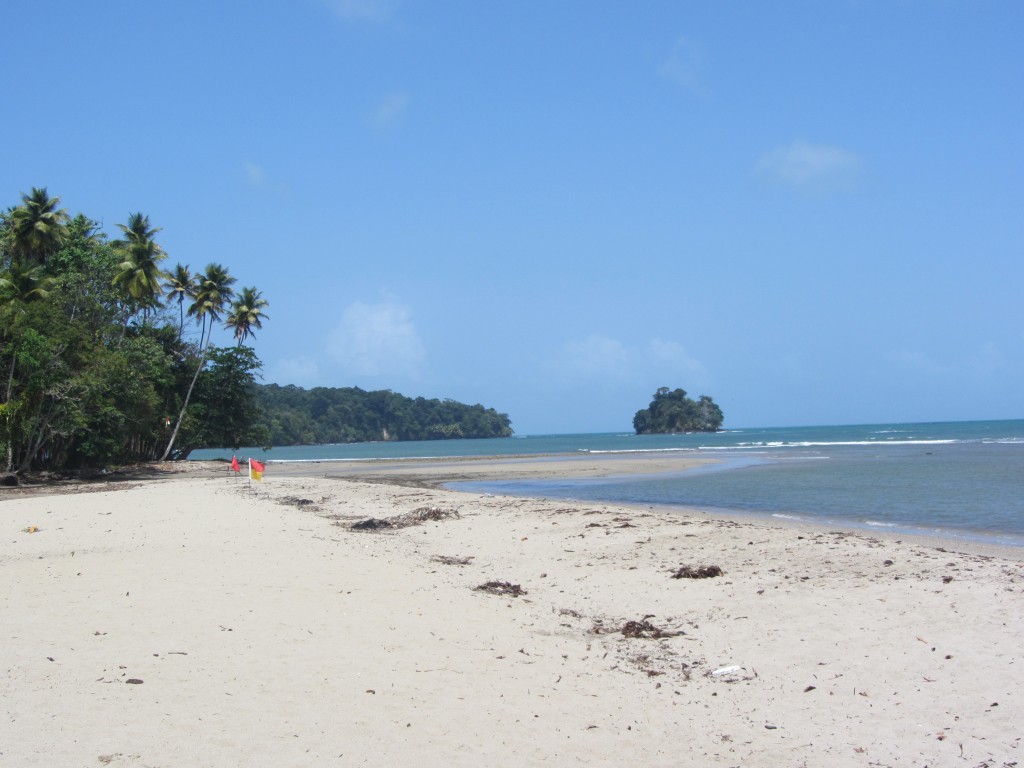 When questioned about the tourism product potential in Trinidad, Cadiz referred to the ecotourism opportunities in the North, with hiking, waterfalls, cocoa plantations and fecund turtle nesting beaches. The South of the island is home to the 150 acre La Brea pitch lake, not your traditional tourist attraction, admittedly, but fascinating to many, as the largest natural deposit of asphalt in the world. The East coast boasts acres of coconut plantations and is home to a well-integrated cultural mix of Hindus and Catholics. From this, the country boasts a rich history of food, music and ritual which tourists relish every year at Carnival, but are not valued as fine, experiential products for the rest of the year. "Local people tell me that Trinidad can never build a tourism industry", says Cadiz, "but I say absolutely we can. People have no idea of what they have here and that tourists want to see it. It's about taking what we do naturally every day and making a tourism product out of it. This is where we have missed the boat".
Over the next few days at the Conference, it was clear that Trinidad has not missed the boat, however, but was just starting to build it. An evening at the Phase 11 Panyard, home to the reigning champion of the island's annual Panorama competition for steel pans, was our first immersion in community culture and tourism. This is just one of many community panyards throughout Trinidad, home of the steel pan, and it is impossible not to be totally enthralled by the beat of the island's home grown sound and national instrument. Their rendition of Moon River, the smell of Doubles stalls wafting through the air, washed down with a Rum and LLB (Lemon and Lime and home-grown Angostura Bitters) cocktail, was the perfect cultural cocktail for any visitor to this welcoming neighbourhood. Closely followed by calypso performer, whose ingenious improvised song about sustainable tourism got the message across quicker than any Powerpoint or pie chart. I suggested to Minister Cadiz that he bring him to the World Travel Market. After all, Trinidad and Tobago is the home of Calypso, and if anything can make sustainability sexy, this Calypsonian can.
Trinidad and Tobago's natural heritage is at its most harmonious on the turtle nesting beaches, however. Conservation and protection of these precious areas is currently in the hands of Turtle Village Trust, (TVT) an NGO specialising in turtle conservation. TVT acts as an umbrella group for all the community turtle conservation projects that have developed in Trinidad and Tobago over the last twenty years. Its Executive Director Dr. Allan Bachan presented at the Conference and described his organisation as "a unique model, where private, public sector and communities have come together to expand in the region. A region which has the highest number of sea turtles in the Western hemisphere".
Turtle beaches have gone from having 2500 visitors in 2000 to over 21000 visitors today, and you can only visit them with a guide working for the Trust during the turtle season. During that time 80% of Trinidad and Tobago's villagers are employed in turtle conservation and tourism. "But we need to balance development and conservation of national resources", Bachan added, something which was more than evident at Matura Beach, which I visited a couple of days later. It was a daytime visit, and so there was no sign of the hundred or so leatherbacks which had visited this seven mile sandy stretch the night before. At Matura the beach is patrolled and protected by one of TVT's community organisations, Nature Seekers and, under the wonderful guidance of Francis Superville (listen to my quick chat with him here) who has seen this community change from poachers to protectors over the last generation, we saw turtle trails and learned about their reforestation programme which ensures the sustainability of these swathes of Galba, Olivier and Lay Lay trees, to name but a few, which line the white sands of this luscious northern coastline.
What doesn't line the sands in Trinidad and Tobago, however, is evidence of protection at government level. How much longer can local communities, paid by funds raised by an NGO from organisations like BP (ironically) be expected to work in good faith and for little money, just for the love of it? Matura Beach, as well as many others, has Environmental Sensitive Area status, but as yet there is no National Park in Trinidad or Tobago. This must surely be the first step in putting real faith into its sustainable tourism product, enabling not only a future for its flora and fauna, but a guaranteed income for those who have worked round the clock, and with little investment, to keep the resources alive to date.
When I asked Minister Cadiz when Trinidad and Tobago might see a sustainable tourism policy put in place at government level, he said that a draft was due to go to stakeholders for consultation. I couldn't help wondering if the likes of Francis at Matura Beach, Christiana Gabin, our seventy year old guide at the Tobago Cocoa Plantation, Kelly and Carl Fitzjames at Brasso Seco Paria Eco Community, Elton Pouchet of In Joy Tours who organised our memorable panyard excursion, Andrew Welch of Banwari Experience which leads tours crossing all cultural aspects of Trinidad and Tobago, Courtenay Rooks who not only leads hiking tours to Paria Springs but is also President of Trinidad and Tobago's Tour Operators Association were on that list of stakeholders. I certainly hope so, because although none of these was presenting Powerpoints to the hundreds of international delegates visiting their country, they are all making their mark on the ground, for sure.
There is no question, however, that when chatting to these all these individuals working in Trinidad's nascent tourism industry, be it at government or grassroots, there is a genuine commitment to sustainability. And, as for liking tourists, well, let's look at their national food as the perfect analogy. Because just like the famous Double, Trinidadians wrapped us up tight in a warm and spicy cocoon of deliciousness for a few days, leaving a lingering taste and a thirst for more. And as long as the environmental and tourism authorities protect and value the ingredients and the chefs, this country will be cooking up an a la carte menu of locally produced sustainable and quality tourism products which will bring a smile to every guest's face.
But will it make the hosts smile too? Can we make people actually like tourists? Tourism Minister Stephen Cadiz summed it up perfectly, saying "I don't have to teach people how to smile here. We do it naturally. One of the traits that Trinidad has is that we understand what it is to laugh at our own selves. We do that very easily….that is half the fight in building a tourism business – we, as a people, are who we are. What we don't understand, is the value of what we have. Because that is what the real traveller wants to see. And that is what I am trying to explain to Trinidad and Tobago. Be natural." For a full version of Catherine's one to one interview with Minister Cadiz, click on Youtube screen below.
For more information on Trinidad and Tobago, see the official website. Go Trinidad and Tobago.