Long before the words ethical or eco started creeping into the tourism industry's boardrooms, there was one man who was quietly laying the foundations of fairness in travel. Thomas Arthur Leonard (or TA as he was known) founded HF Holidays in the UK a hundred years ago and it is still one of the leading providers of walking holidays in the UK and Europe. Although TA's achievements have been relatively uncelebrated to date, the centenary of an organisation which still remains the only UK holiday provider that is a truly co-operative society, gives us a good opportunity to take stock of this pioneering philanthropist's achievements.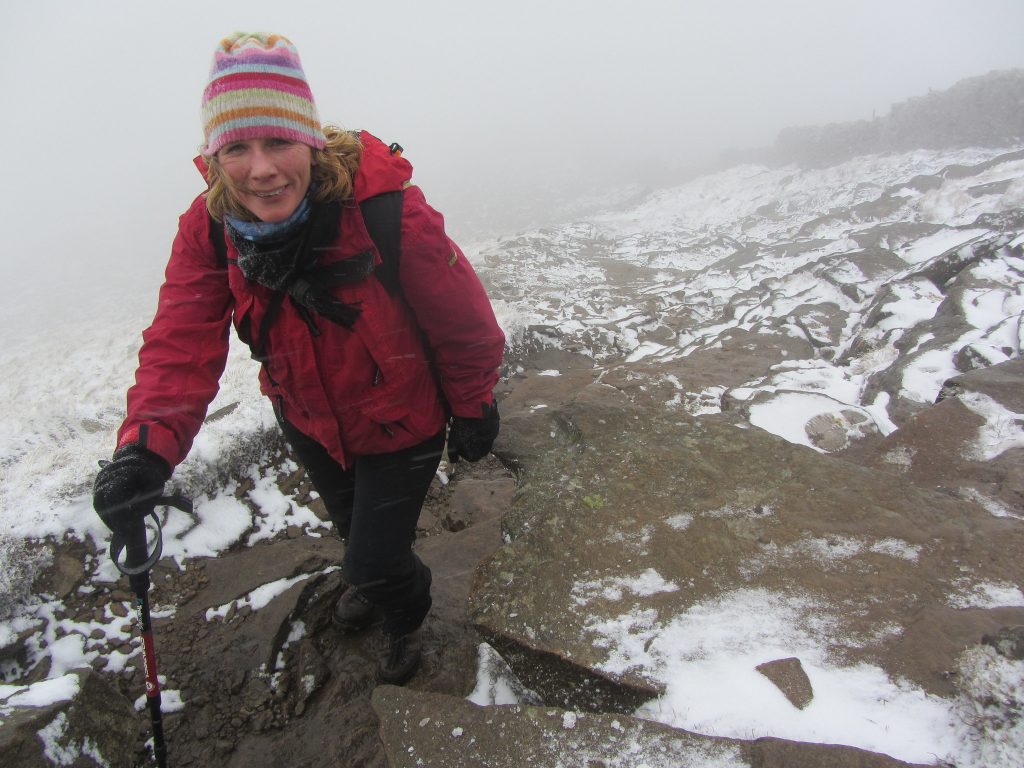 I found there was no better way to get to grips with his greatness than by hiking up to the top of Pen-y-Ghent, one of the three peaks of the UK's Yorkshire Dales, on an unseasonably freezing day. So cold, in fact, that I was sure the HF Holiday guides would cancel the walk, with snow flurries concealing the summit. But no, they are made of stern stuff at HF Holidays. This organisation was created in 1913, after all, seeking to, against all odds, get people into the outdoors so that they could still enjoy the landscapes all around them, in spite of a growing sense of worldwide angst. And also, to do so on the cheap. Leonard had already created the Cooperative Holiday Association in 1894, but feeling that this had been swamped by the middle class, he created the Holiday Fellowship (HF), a Society which sought to provide basic, accessible walking holidays in the UK and abroad. In the 1930's he also helped create the Youth Hostels Association, keeping rambling real for generations to come.
Although HF has moved on from single sex bunk rooms to superbly equipped country manors, such as Newfield Hall in Malhamdale, Yorkshire, the base for my Yorkshire Dales walking break, there is still one core ethos of this walking society which has stuck with HF Holidays. All their guides, or 'leaders' as they call them are volunteers. Or good fellows, Leonard might have called them in his day. Many of them have grown up with families who went on HF walking holidays in the UK, and now they want to share the love. They are all passionate about walking, cycling as well as a plethora of other outdoor activities. They are also all warm, generous people who celebrate the notion of 'fellowship' without being in your face, let's all hold hands and thank God for life sort of people. In fact, if I could sum these guys up, they are what you imagine the perfect grandparents to be and, if I could, I would like to adopt each and every one of the guys who led us around the Yorkshire Dales for that role in my children's lives.
So, as much as this centenary is about celebrating the achievements of TA Leonard, it is his legacy that lives on through people which what makes HF a very special company to holiday with, if outdoor activities are your thing. And of course, their walking leaders are hard core, which you need in the middle of the Yorkshire Dales, Snowdonia or Glencoe, just to give you that added incentive to climb the next stretch which, in our case, we couldn't actually see because of snow. But on we trekked, feeling with every step that we were in very safe hands, the route being judged with expertise along the way. We took a steep, slow climb up to the peak, but due to the extreme and icy conditions our leader guided us down a gentler route down Pen-y-Ghent.
The rather stark, boy scout feel that HF Holidays had in the past has gone a little softer round the edges in modern times, however, as we all jumped into the swimming pool at Newfield House on our return, pampered ourselves with a little pilates, and massaged those well stretched muscles with a petit Pino Grigio by the fire. Not sure if that would have passed TA Leonard's middle class radar, really. Not to mention the fine selection of packed lunches, with poached salmon sandwiches and fine local cheese.
International walking holidays were also part of TA Leonard's vision and this has now become the biggest growth area for the organisation. An organisation which is still, by the way, a truly cooperative and non-profit organisation. You can sign up to be a member and shareholder, attend the AGMs and have your say in how they move things forward in a world that is being swamped by 1 billion travellers, the majority of whom are still being seduced by pure profit driven travel. HF Holidays also realises that it needs to sustain its set up for the next generation, and so it has created a young person's membership which adults can sign up to on behalf of anyone under 16. Too cool for school, really.
Another development is the (great value) Freedom Break, whereby you just use one of HF's accommodations as a base for independent walking, but get full board accommodation, an OS Map and plenty of detailed information on best trails etc. These are just applicable to a certain number of UK locations at the moment, however, such as the Isle of Wight (superb coastal walking just a couple of hours from London), the Cornish Coast Path or the Lake District. However, I was glad to be in the safe hands of a group and our superbly informative and affable guide, Mervyn Flecknoe, as we climbed up Pen-y-Ghent. As we took our final steps down from the peak, we strode across some massive flagstones made from local limestone. For an organisation that proudly promotes 'Leave No Trace' as part of its outdoor ethic, this is one impressive exception. Because, although they don't shout about their conservation and care practices at HF Holidays, there is a lot going on behind the scenes. These flagstones, which prevent erosion caused in hiking hot spots, were funded by HF's Pathways Fund, a charity which guests can donate to, and which not only works with leading conservations charities to protect landscape but also provides assisted holidays to those who could not otherwise afford one. Like I said – Foundations of fairness. For a hundred years. Fair play, HF, and happy birthday.
HF Holidays not only offer walking holidays in the UK and Europe but also, cycling and outdoor activity holidays in varied locations from Barbados to the Brecon Beacons, or Kenmare to Kenya, see www.hfholidays.co.uk. Or follow them on Twitter @hfholidays or on Facebook (HF Holidays).