As I sow chamomile seeds in my garden, methodically placing one seed beside the next, I have time to reflect on why I have been inspired to plant this most beautiful free flowing herb. Which takes me back to De Kas Restaurant in Amsterdam, where I visited a few weeks ago on a search for great places to eat and sustainable food in Amsterdam. De Kas is located in one of Amsterdam's relatively un-touristy parks, Frankendael, a ten minute tram journey from Central Station (take tram 9, stop Hogeweg). You can't miss it when you go into the park, as two big old brick chimneys act as beacons to this cocoon of culinary creativity.
Local food in Amsterdam at De Kas Restaurant
The chimneys are remnants of the city's municipal greenhouses from the 1920's, the rest of the buildings having been conserved and restored by the restaurant owner, and leading chef in his own right, Gert Jan Hageman, in order to create this exquisite eatery. They grow as much of their produce as they can, here on site and also on another farm just outside the city in the Beemster region. And the first of their fecundity to greet us as we walked up through this glorious flower and herb garden was, of course, chamomile – wafting through the air as if to create a sensual path of welcome to everyone who steps in to De Kas' realm.
The menu stays the same all week, their team of chefs creating dishes from whatever has evolved out of their little corner of Eden. They also use local fish and meat of course, but there is a huge emphasis on the alchemy arising out of their nurtured, organic vegetables, fruit and herbs.
At lunch we were given a selection of three starters to share -all equally superb with flavoursome treats popping out of each one. Such as the razor clams and cockels with celeriac, saffron and lemongrass, served with a little finely chopped granny smith apple, rocket and nut oil. Or the cannelloni filled with eggplant caviar, spinach, sheep's feta, zucchini and dried beef. Or, most extraordinary for taste bud teasing, roasted turnip with beetroot, rhubarb, fennel and orange. We both chose grilled catfish for our main course, served with young pickle and a selection of broad, borlotti and green beans.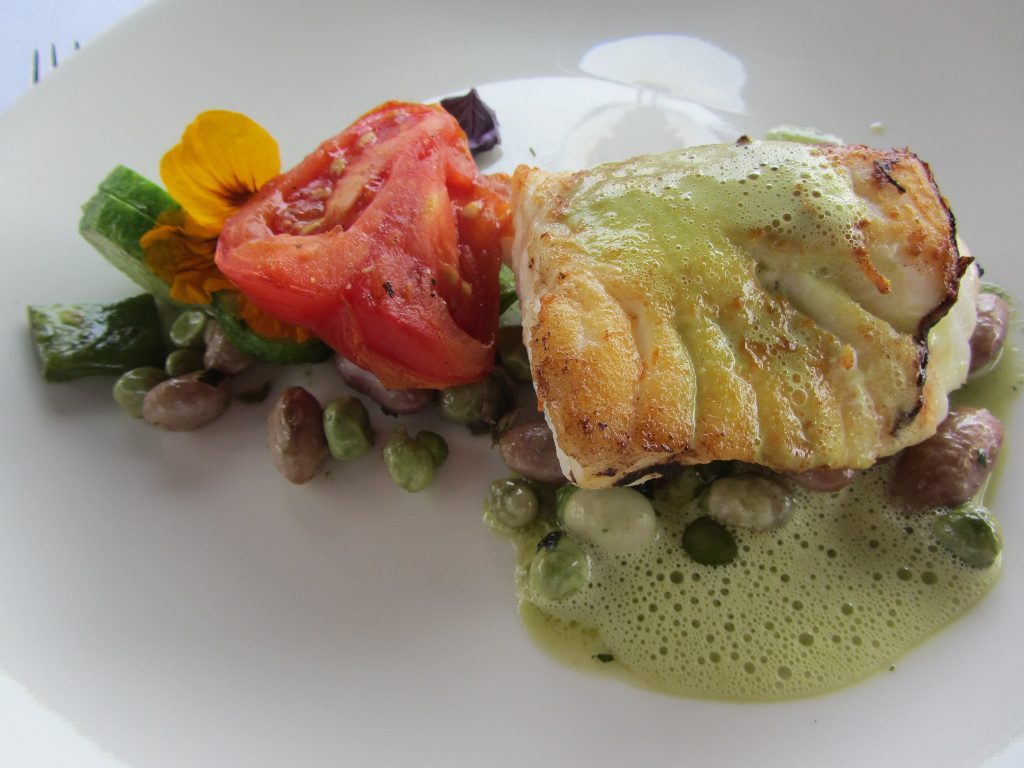 As we delighted in every flavour that passed our lips, we watched the chefs wander in and out of the garden, chatting with the head gardener and also with guests. The chefs' engagement with both produce and people is what makes De Kas so special. Even the Chef de Cuisine, Bas Wiegel, wandered over to chat with me and my lunch companion, my ten year old son, who is young masterchef wannabe. The minute Bas hears this, he invited him into the kitchen to help make his dessert – a bit like winning the golden ticket into Willy Wonka's chocolate factory in my son's book, except the outcome was a lot more real, natural and beautiful – a melange of melon, with watermelon soup, vanilla ice cream and a fennel tuile. Decorated divinely with violet flowers and peppermint. These guys aren't masterchefs, they are like Monets transposed to a kitchen. They take natural produce from the plein air and adapt it with such an art that it makes our hearts, quite simply, leap with joy.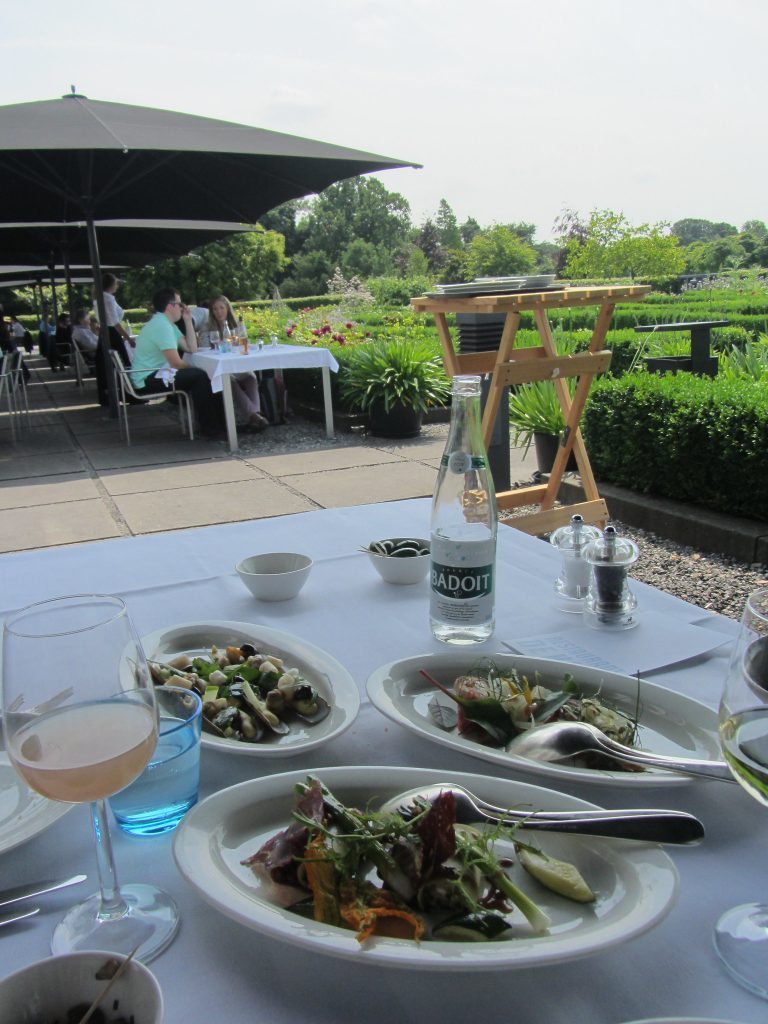 Pllek – one of the best kept secrets for great places to eat and sustainable food in Amsterdam
In total contrast, across the River Ij in North Amsterdam is the coolest of cool – Pllek. Describing itself as a 'creative catering hangout', this is a must do for anyone who wants to imbibe all of what laid back Amsterdam is about. Take the free ferry service to NDSM Werf, which leaves from just behind Central Station. It felt like a bit of a long journey after a day of being tourists, but once we got there we didn't want to leave.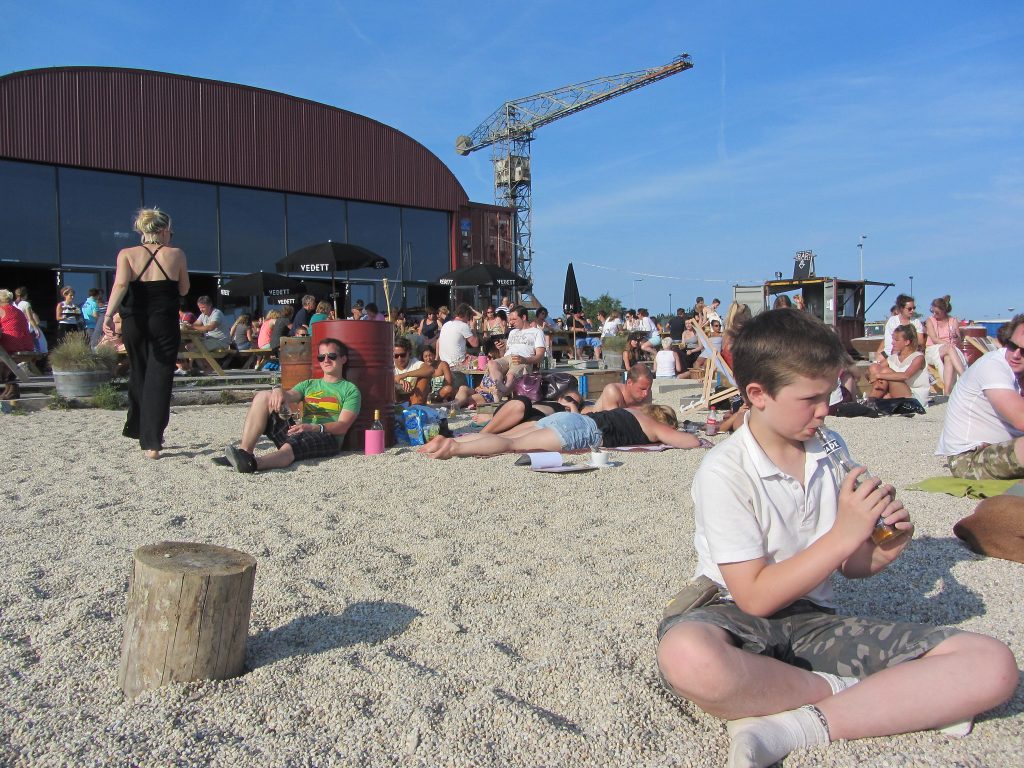 Pllek is sustainable at its sexiest really, in my eco world of sexiness anyway. Owner Sjoerd Steenbeek has created what feels like a self-seeding hub of happiness, constructed out of shipping containers in what was, until recently, the derelict shipping area of the city. On the waterfront, with one of the most superb views of Amsterdam's skyline that you will find, they have created their own beach, a DJ plays chill out music, couples lie around on deckchairs looking incredibly cool, families play beach ball while they wait for their fish cakes, salads and, in our case, the Dutch specialty of asparagus and poached egg and dudes hang by the firepit with beers and banter.
You can do yoga here during the day overlooking the river, or there are sporadic events such as kids' creative sessions, gigs and film screenings if you just keep an eye on their 'agenda'. Being on the river, it all just seems to go with the flow at Pllek, and the soothing effect of this sustainable beacon is infectious. I found myself thinking if had been twenty years younger, I would have begged them to give me a job and would never have left again. However, back in the reality of my garden, my chamomile seeds sown, I am now looking into where to place my small artificial beach. Thanks for the memories, Amsterdam.
For more information on great places to eat and sustainable food in Amsterdam and beyond, see holland.com. Catherine and her son travelled to Amsterdam the green way, using the great value Sail Rail Package from Stena Line.