I have found it hard to accept that one of my sons, aged eleven, just doesn't really like cycling. He comes along on trips, pedalling patiently with a smile through gritted teeth, but really it just isn't his thing. So it was either me taking a homeopathic approach to curing the complaint, or just being in total denial, when I decided that we should go on a mum-son break to Amsterdam. The city of cycling. It's a bit like throwing the child who doesn't like to swim in at the deep end really, isn't it? Until I watched him stride down the canal, head held high on his tall Dutch bike and joining the throngs of other cyclists who rule the roost in this stunning city, and I realised that suddenly he had got it. He had found that feeling of freedom, allowing a whole new world to open up to him over the next few days.
Getting to Amsterdam by ferry from the UK
There was no better place for this awakening to happen in really. I had chosen a city break to Amsterdam not only because I had wanted to come here for years, but because it has a wonderful reputation for being green.
First of all, we were able to travel there by train and ferry, using the superb Dutch Flyer sail rail deal with Stena Line, a ferry company which already has a strong commitment to green practices. I can't recommend this Rail and Sail package more highly, an all-inclusive deal including the train from Liverpool Street in London (although you can leave from any Greater Anglia station) to Harwich International Port, a cabin with super comfortable beds and luxurious linen, a top three course dinner (really! ) and our rail ticket on to Amsterdam from Hook of Holland port. All from £150 return and half that for children. The journey was super smooth, leaving London at 8pm and arriving in Amsterdam at 9.30am the next morning, with a whole day ahead for playing.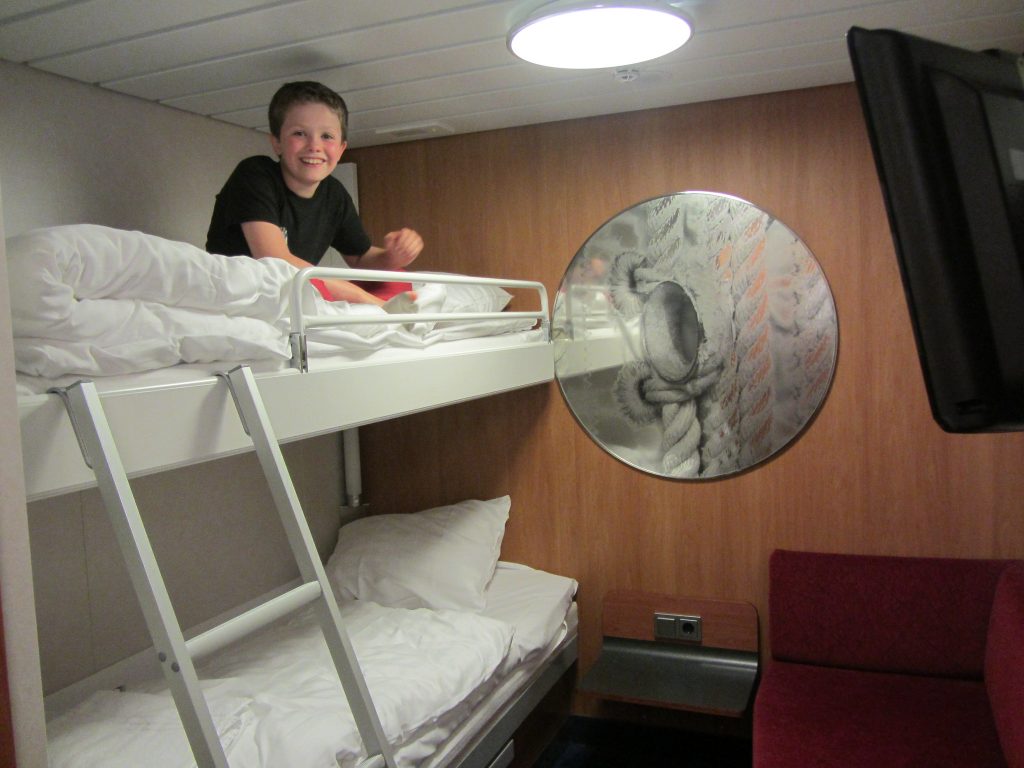 A green stay in Amsterdam
And this is a playful city. Even checking in at our eco hotel – and it isn't usually that easy to find an eco hotel on a city break – but Amsterdam's Conscious Hotels are about as eco cool as it gets. And they are humorous with it. As if in homage to the city's sex reputation, each bedroom door has a greeting on it, such as "Alright, I've had others before, but nobody like you. You're the one I've waited for".
However, clearly keen to shine a green light on the city rather than a red one, there are living roofs and, in some cases, living walls, FSC certified wallpaper, desks made out of recycled yoghurt cartons, water saving devices everywhere, and eco wash products in all the rooms. And of course the generous breakfast buffet is organic. The other thing that struck me was the lack of stuff. The bedrooms are stark compared with other hotel chains, without loads of unnecessary furniture. They are still super comfortable and cool, but just great advertisements for the fact that excess is so not eco.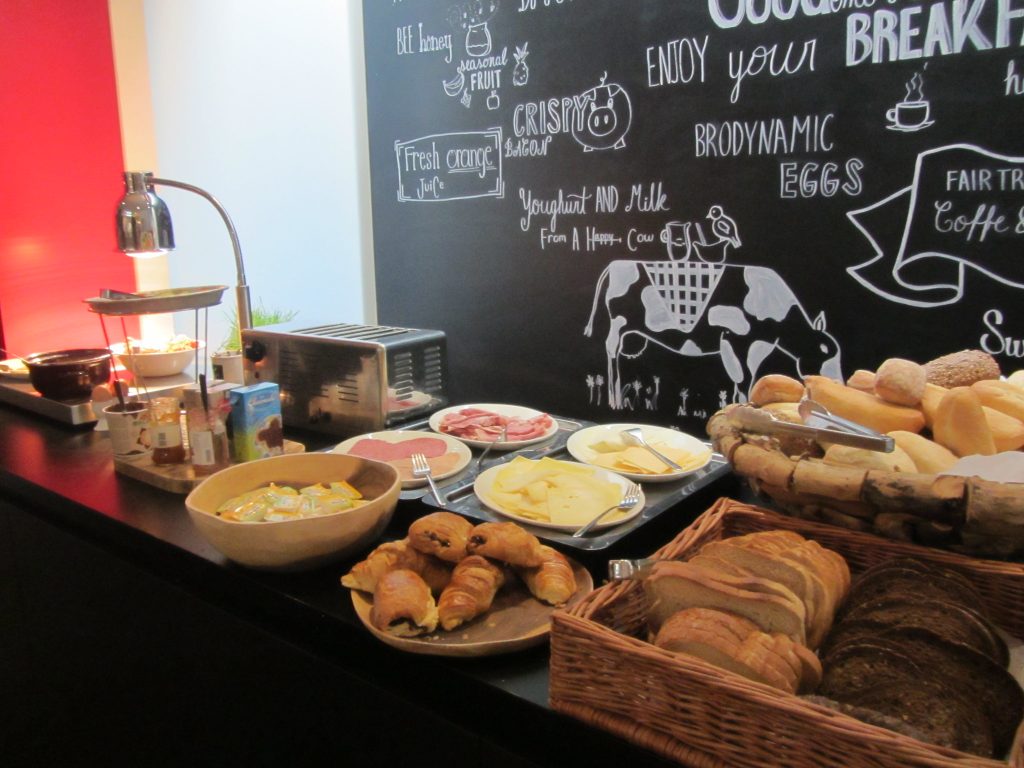 A hotel near the Vondelpark with an eco ethos
There are two Conscious Hotels, one in Museum Square for those who are doing an art break to Amsterdam, and one beside the city's green heart, Vondelpark. We stayed at the latter, just a fifteen minute tram ride direct from Central Station and backing onto the large city park, with bikes for hire in the hotel for ease of transport after that. Step out of the hotel and hop straight onto a cycle path into the city, take the green route through the Park, or jump back on the tram to go exploring.
My little urban boy was suddenly over the moon that he had a right to roam, his overly safety conscious Mum less over the moon that he had refused any notion of high vis or a helmet. Absolutely nobody wears them here, probably out of a sense that you feel so much safer as you cycle. You instantly know that traffic respects you and that cycling is cool and fun. So yes, I swapped good parenting to live like a local, I admit it.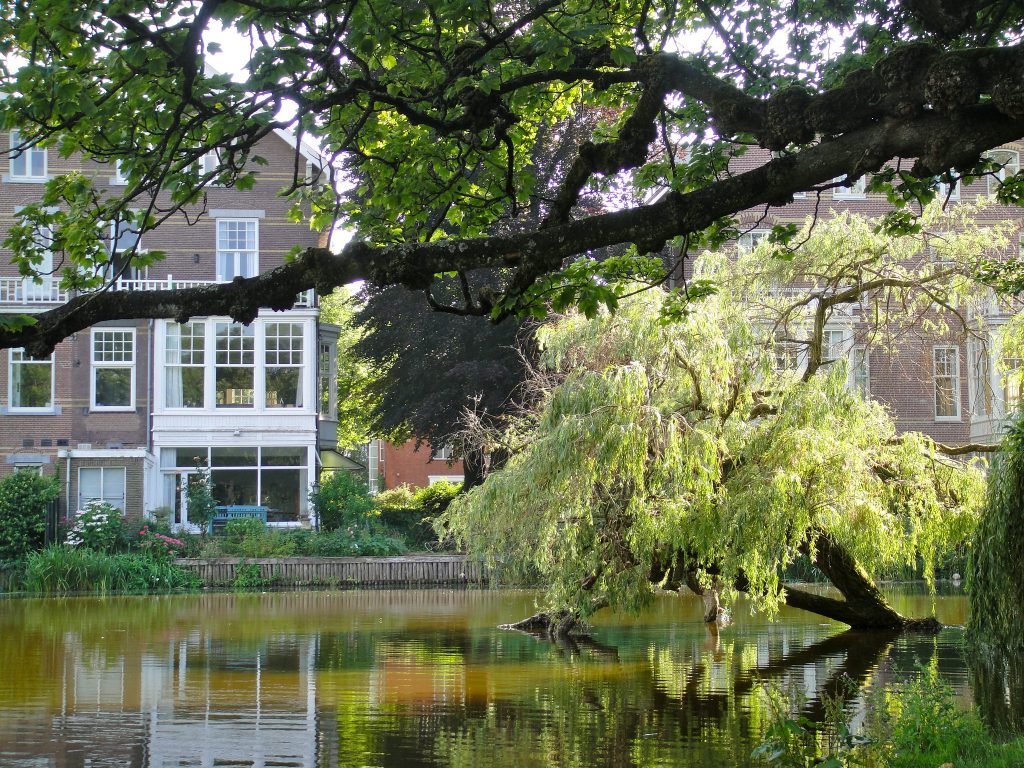 Exploring Amsterdams green highlights
We settled into our saddles with the help of a Yellow Bike city tour – something I do recommend, because although there are cycle lanes everywhere, we both needed to adjust to cycling on the right, stopping for traffic coming from the other direction when we crossed a canal, and just managing these high handle bar bikes with brakes that work by pedalling backwards. The tour also gave us a greater understanding of the city's geography, as we crossed over its maze of canals intercut by the River Amstel.
Our student guide was superb, explaining about the aqua engineering of this exquisite city, the architectural heritage with its tall narrow buildings built to avoid a tax on the width of your home, and the political history with an emphasis on the liberal approach taken to the sex and drugs industry.
Great Amsterdam guides
I also liked the fact that there was no editing of his opinions just because there was an eleven year old present. They encourage freedom of speech in Holland, and my son enjoyed being part of this adult debate, our guide stating "It is legal to smoke weed here because the government says that you can trust it and you know where it is coming from. But in my opinion, you don't know where the weed is coming from – so how can the government say we can trust it? There are still illegal things going on in coffee shops that are not controlled, and so they are still the dark side of Amsterdam. The same with the red light district. Only five per cent of the prostitutes are Dutch. All the others are coming from abroad, and many are not aware why they are being brought here". Yep, if you want an education, rent a yellow bike.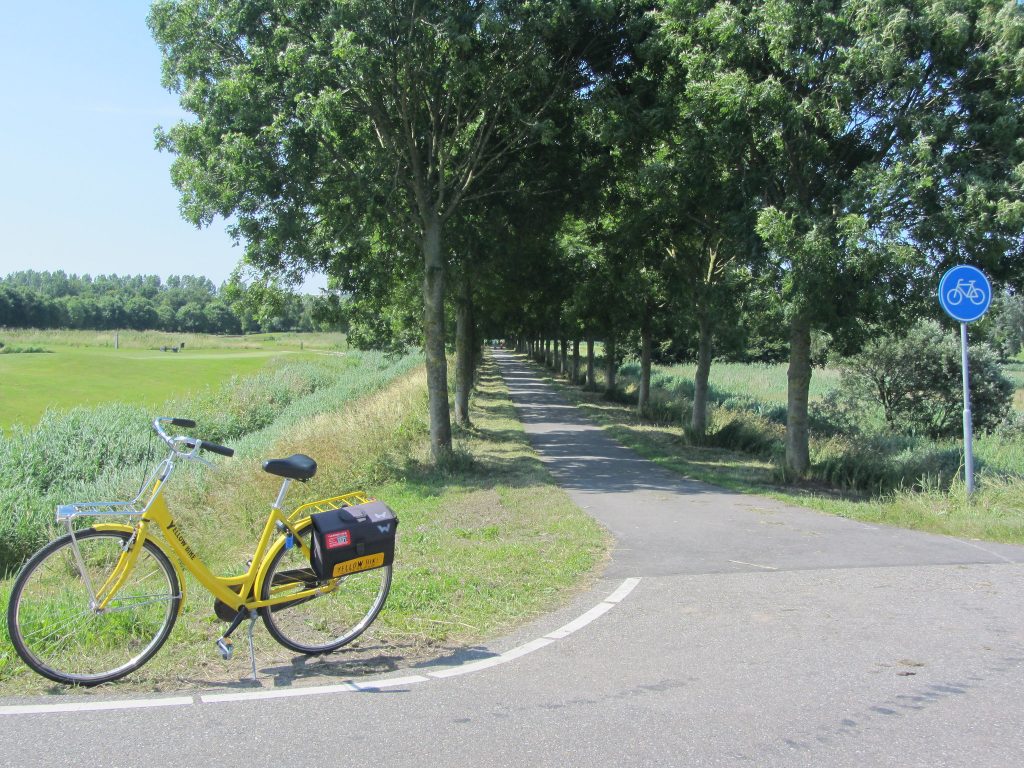 We loved our guide so much on this trip, we booked again with Yellow Bike Tours on our last day to take a trip across the River Ij, the city's other main river, jumping on the free ferry service which leaves from just behind Central Station, to the North side of the city, or Noord Amsterdam, a stunning green belt within minutes of the hub. Cycling along country canals, having lunch on the pontoon of a waterside pub, and seeing Amsterdam's only remaining windmill were all highlights. That and the smile on my son's face. A smile of pure bicycle bliss.
Sustainable foodie hangouts in Amsterdam
As our break to Amsterdam was during a heat wave, we were relieved to discover a superb range of al fresco options for eating too, all sustainable and all sumptuous in their own way. For street food, we ate freshly battered calamari and mackerel from a fish stall at the famous Noordermarkt, very central and well signposted and open Saturdays 9am-3pm. This is a top organic farmers' market, although there are other non-organic options from local producers, such as our fish feast, washed down with freshly squeezed juices, as well. In total contrast, is the more luxurious Restaurant De Kas, located in a very untouristy but pretty Frankendael Park (take number 9 tram from Central Station and get off at Hogweg stop).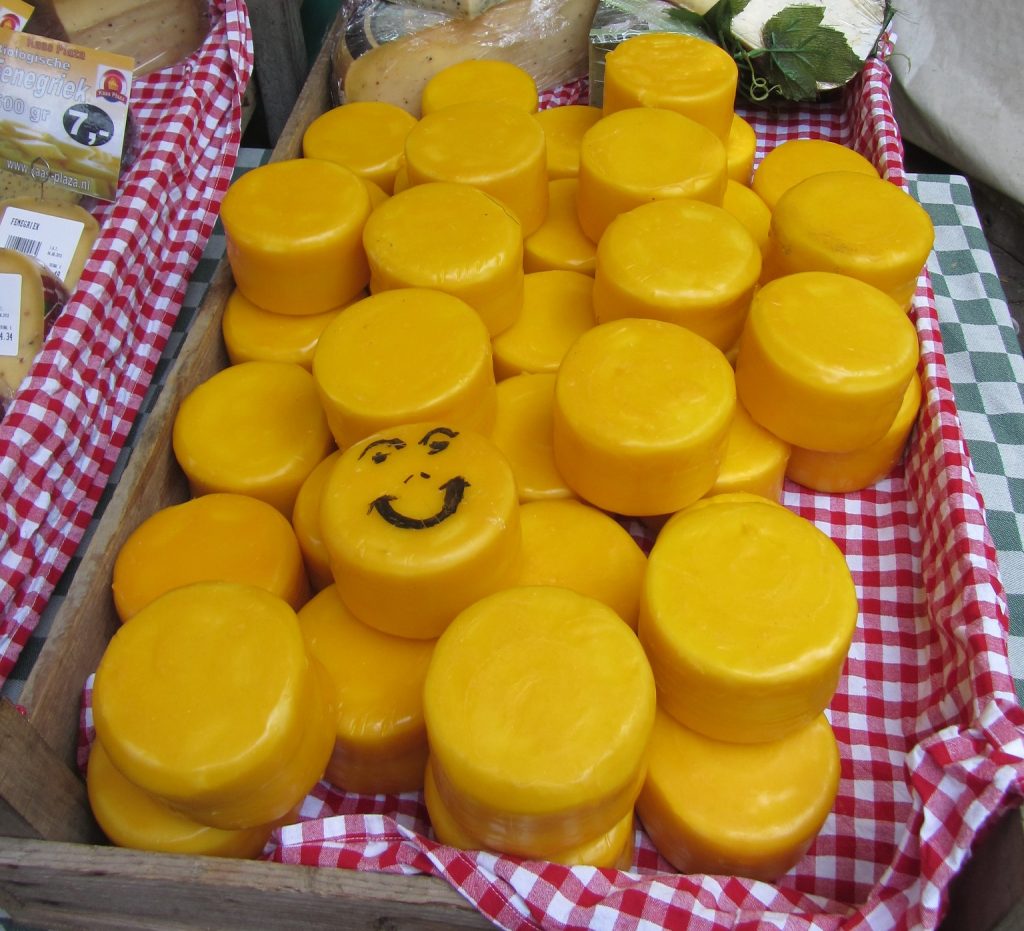 You can't miss it in the park – just look out for two big old brick chimneys beside it, the restaurant being an inspired renovation of an industrial sized greenhouse which had been used to provide food for the city and the chimneys were used for heating them. The vibe here is not only about creating a symbiosis of produce and menus, but also of people and food.
The chefs chat with everyone, wander around picking fresh herbs and vegetables, and show their precious produce to interested diners who sit overlooking this splendid setting. As soon as they realised that my son had a passion for cooking, the Chef de Cuisine, Bas Wiegel, invited him in to help make his dessert. Melon in rose syrup with watermelon soup, vanilla ice-cream and violet flowers, no less. The cycling had been fun, but for this budding Young masterchef, this was a dream come true.
Pllek waterfront cafe and restaurant – one of Amsterdam's best kept secrets
And last but not least, we took one last trip across the River Ij on the free ferry service to NDSM Werf, to the coolest of cool Pllek. It felt like a bit of a journey after a long day of cycling but once we got there we didn't want to leave, and there is no rush as the last ferry back to the city centre is at 1am at weekends or midnight during the week.
Pllek is sustainable at its sexiest really, in the green sense of the word, rather than the red one. Constructed out of shipping containers in what was, until recently, the derelict shipping area of the city this is a space where they have created their own beach, where the DJ creates his own beats, and the chef creates his own feasts. Couples lie around on deckchairs looking incredibly cool, families play beach ball while they wait for their fish cakes, salads and, in our case, the Dutch specialty of asparagus and poached egg. and dudes hang by the firepit watching the sun set over the wide cityscape on the other side of the river.
Travelling by water in Amsterdam
You can't visit Amsterdam without hitting the canals though. You can do that the eco way too, with the electric powered boats run by which leave from Damrak Pier. But it was only when we took the boat trip from IJburg, a brand new waterside suburb just fifteen minutes on Tram number 26 from Central Station (or a quick cycle on super safe track) to the gorgeous medieval castle of Muiderslot, that we took in the full extent of how water has formed and continues to inform this progressive city. As we went through a lock into open water the skipper, Imre Leenhouts, explained that this isn't in fact sea, but Lake Ij, a massive freshwater lake that came about after the construction of a dyke to stop the sea flowing in a hundred and fifty years ago.
The skipper also pointed out that IJburg is the most modern example of reclamation in Holland, built just ten years ago on a completely artificial island and, in order to offset the development, the government constructed several other islands which are inaccessible as they are being left to develop as nature reserves. We finished our day celebrating water by diving into it, spotting a beach on our way back into IJburg. We had both found it a little hard being around water all the time, and not actually getting to immerse ourselves in it, so now was our first chance.
We had a few other opportunities, cooling down in the paddling pool outside the famous Rijksmuseum, and then, on our way home, having a full on afternoon at Hook of Holland beach, just a mile or so from the ferry port. All adding to the sense of fun and freedom that Amsterdam had to offer.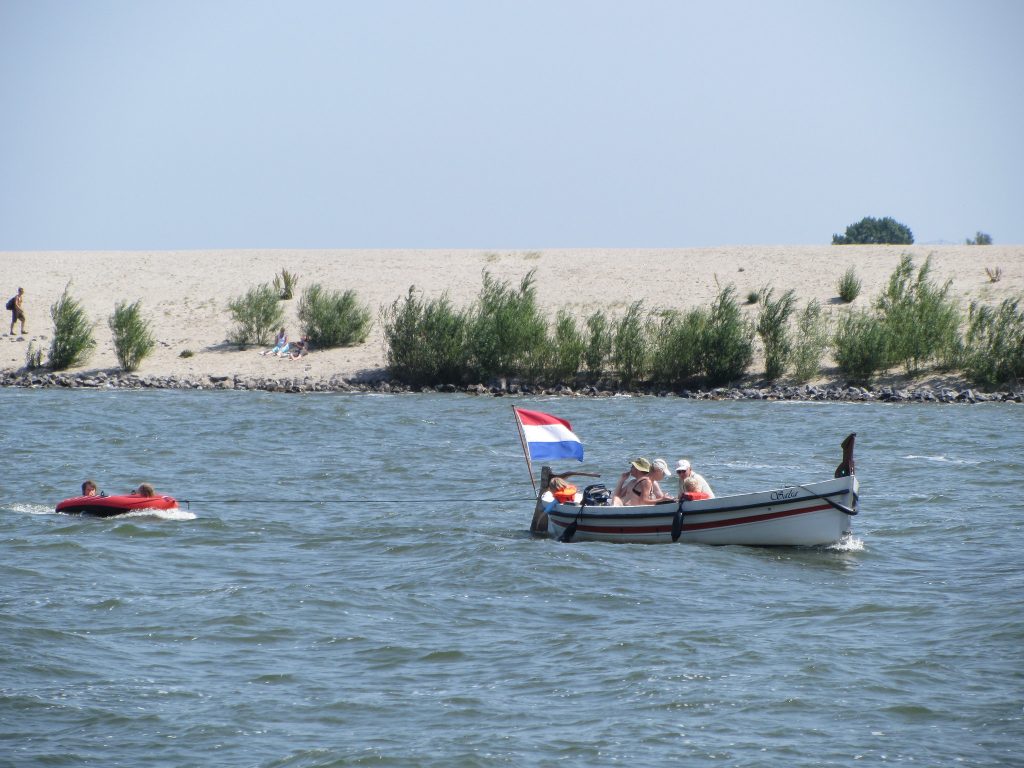 Visiting Anne Frank's house in Amsterdam
One place that you can't miss in Amsterdam, however, is Anne Frank's house where there is now a museum. The queues are long, but shorter earlier in the day, and anyway, what's a bit of waiting in line compared with what the Frank family, and many others, had to endure? It is beyond poignant, especially visiting it with a child of my own. And after a few days of cycling, swimming and boating with the youngest light of my life in this city which made us both smile a lot, Anne's entry on 24 December 1943 brought a huge lump to my throat: "I long to ride a bike, dance, whistle, look at the world, feel young and know that I am free". It was difficult to find words after we left the Frank house. So, the best thing seemed to be to just get back on our saddles, and keep cycling.
For more information on Amsterdam see iamsterdam.com and holland.com An edited version of this article, by Catherine Mack, was first published in Green Parent magazine.