If there is one place I could go back to this mid summer, it would have to be Sark. One of the Channel Islands, it takes a good while to get there but it is so worth it. Sark is a car-free and sustainable Channel Island lying 11 km east of Guernsey and about 40 km west of the Cherbourg Peninsula of France. I discovered it on a trip to (also gorgeous, but not quite so special) Jersey a few years ago, which I was heading to by ferry from the south of England. I got chatting to a crowd of cool young ones, who told me they were en route to Sark. They come every year around midsummer to gaze at the stars, because Sark is not only car free, but it is totally free of street lights and so an astronomical Arcadia.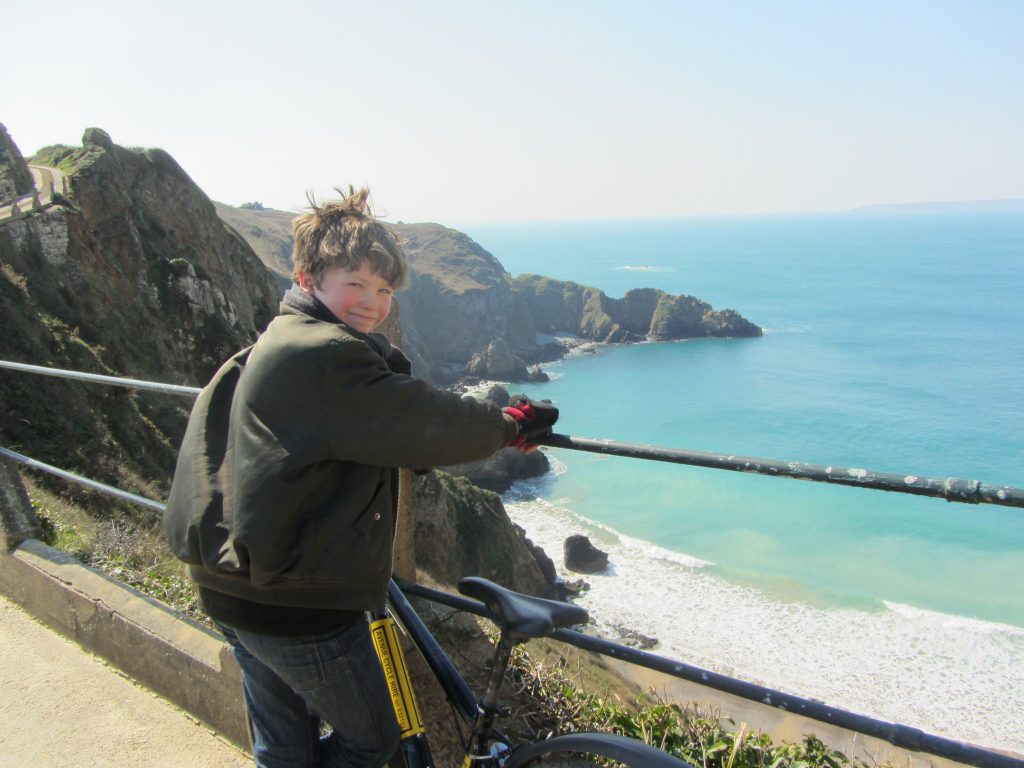 Trying desperately to emulate these youthful adventures, I returned to Sark with my family at Easter for four days, and saw straight away what brings people back year after year. Young and old. Everyone is on a bike here, and not just in that day tripping tourist way. It is the way of life, with everyone from farmers, priest, shopkeepers and kids all just bombing around on the island's sandy or gravel tracks. The only vehicles are tractors and we only saw two of those during our stay and we covered most of the island during that time, which isn't hard. Sark is only 5.5 kms square, and yet has over 60 kms of coastline. There is something about that statistic that evokes a world of hidden treasures and surprises. Secrets and whisperings. And we were not disappointed.
Staying a the sublime Stocks Hotel, one of the best places to stay on Sark
It took me all of about five minutes to release my uptight urban leash on the kids here, who wanted to take off immediately on their hired bikes. This transition from mainland to island traveller was facilitated with reassuring ease and charm by the manager of our stunning Stocks hotel, Paul Armorgie, whose family has owned the hotel since 1979, and who encouraged our now feral fellas to take off and explore. Because Paul celebrates independence – something that has sadly become an issue on Sark over the last couple of years.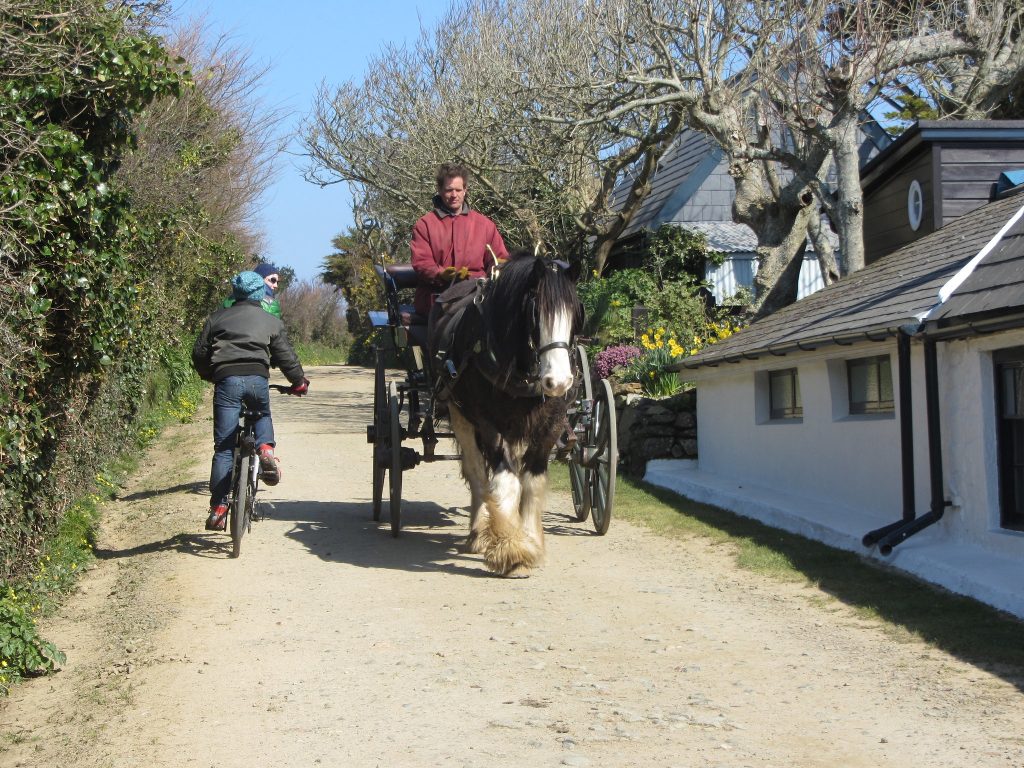 Stocks is now just one of two independent hotels left on the island, the rest all part of the Barclay brothers', British property and media magnates, growing involvement on the island. Already owners of neighbouring Brecqhou island, they have, in the last five years, according to an article in The (UK's) Guardian newspaper, "snapped up almost a quarter of land on the three-mile-long island, along with many of Sark's key businesses", and the upset caused by this among locals has hit headline news on several occasions.
Sark, Dark Sky Island
Don't let these politics put you off visiting this island, however. And don't for a second think that this is a billionaire's playground, with yacht filled marinas and casinos on the main drag. You are met off the ferry by one of the island's tractors which takes your luggage (and you in the passenger trailer behind if you so wish) to your chosen accommodation. And as for casinos, well, the only gamble you will take here is whether the boat will sail or not. Because if the winds pick up, you can risk being stuck here for an extra night or two. Which is what did happen to us, and boy did we thank our lucky stars. All ten million of them glittering down at us in the skies which are indeed so clear, which is why Sark was declared the world's first Dark Sky Island in 2011 by the International Dark Sky Association.
Ethical and sustainable tourism on Sark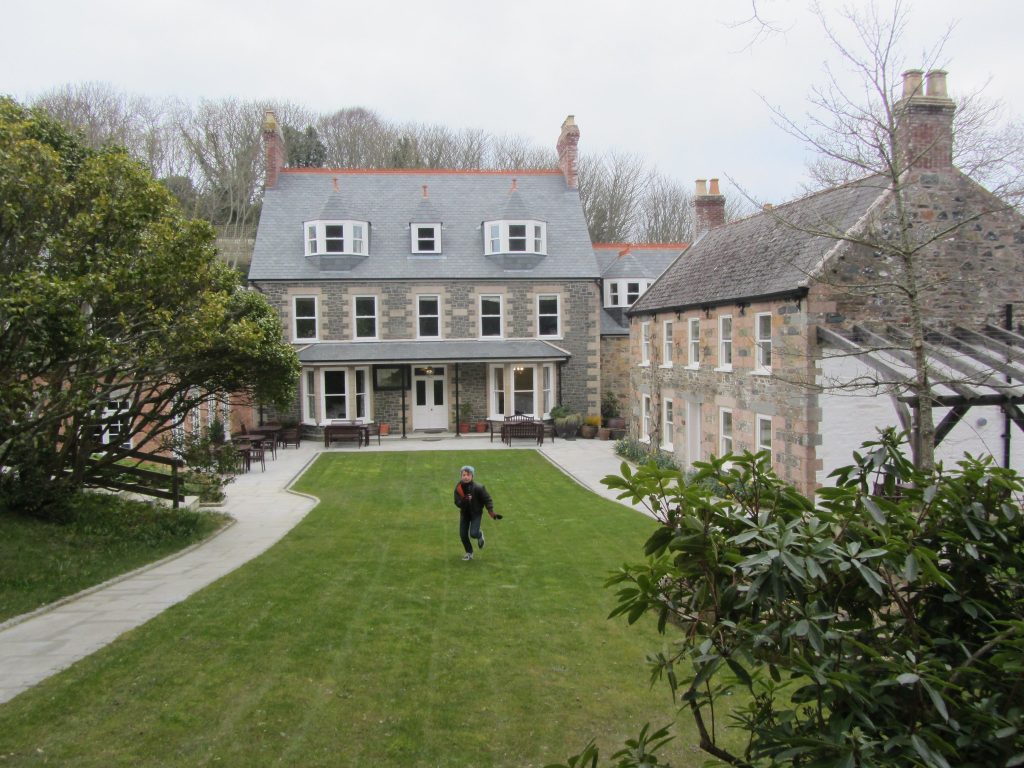 The team at Stocks know that sustainability is the only way to go on Sark. They watch patiently as the blow ins plant vineyards instead of allowing the land to be used for traditional farming. And instead of fighting them, they quietly plough their own furrow and create a model permaculture garden. They invite the chefs of River Cottage to come and do a foraging and feasting cookery course with their guests, and their extraordinary chefs, Byron and Kendra Hayter creating gourmet gems out of Sark's natural hamper of home grown produce. In particular, of course, the locally landed fish. During our stay we managed to sample Kieran Perrée's scallops, which he is licensed to hand dive for in Sark waters, Dave Scott's Sark lamb and wild sea bass landed by Jonathan Shuker from Sark waters.
Stocks Hotel has been designed not only with class and chic in mind, but also with home from home comfort. And as well as the solar heated swimming pool, horses and carriages on site for guest rides, homemade wines and wild flower liqueurs, every corner at Stocks Hotel is infused with fun.
Cycling and walking on Sark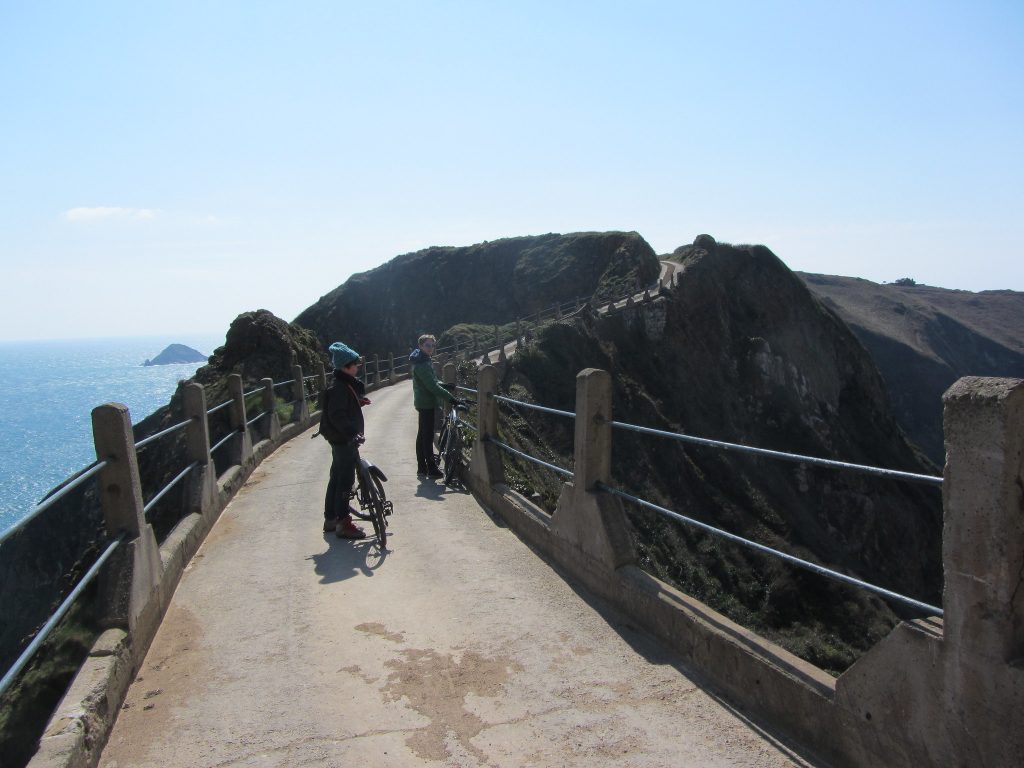 After a day of walking or cycling, we were welcomed back into the fold like a member of the family, as we shared stories from our various discoveries that day. For example, Little Sark, a tiny peninsula joined to the 'mainland' by a narrow isthmus called La Coupée, where there is now a reinforced road with sturdy railings, so you feel totally safe when crossing it. We took the coastal route there, following a steep bluebell and fern-filled Dixcart valley just two minutes from the hotel, to the sea at Dixcart Bay. The stream that we followed down there culminated in a waterfall on the beach, where there is a sea arch which leads you through to another hidden bay just beyond that and calm, clean, safe bathing waters. From here we headed back up to the cliff path which segues from sunlit yellow gorse to hedgerows full of nesting birds, the sea coming in and out of view all the time between them.
The walk to La Coupee is only about half an hour, and after crossing the dramatic bridge, and taking in the clifftop views , we headed La Sablonnerie on Little Sark for afternoon tea. Cream tea at La Sablonnerie is a must, given that they use their own cream, and their scones are now well ensconced in my fine food memory bank. And like Stocks, it is also well and truly Sarkee, having been in the same family since 1642.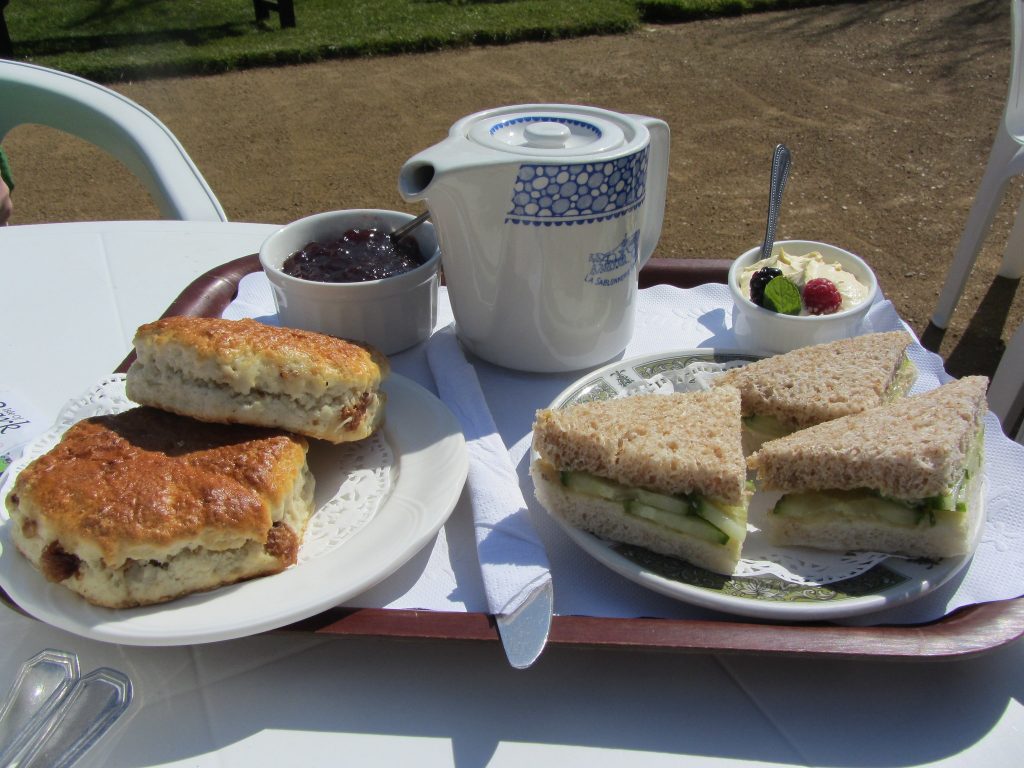 At the end of our second day, we cycled up to the North coast and dropped the bikes at the top of the path marked La Eperquerie, an old landing point for boats. From here we walked out to more dramatic cliff hanging walkways, picnicked at a rocky headland, got lost in a wild maze of heather and gorse, and then headed back inland to more manicured one inside the magnificent gardens at the Seigneurie, the home of the island's 'seigneur', or traditional feudal leader of Sark.
Sark is a landscape for lazing musings or romantic hideaways. Independent thinkers and those who find solace in nature. Don't put it on your bucket list, just go and savour its beauty now. Not only because those who strive to protect and conserve this special place deserve all the support we can offer, but because no matter how hard they try, the blow ins will never be able to blow out the stars. And the main star here is Sark itself.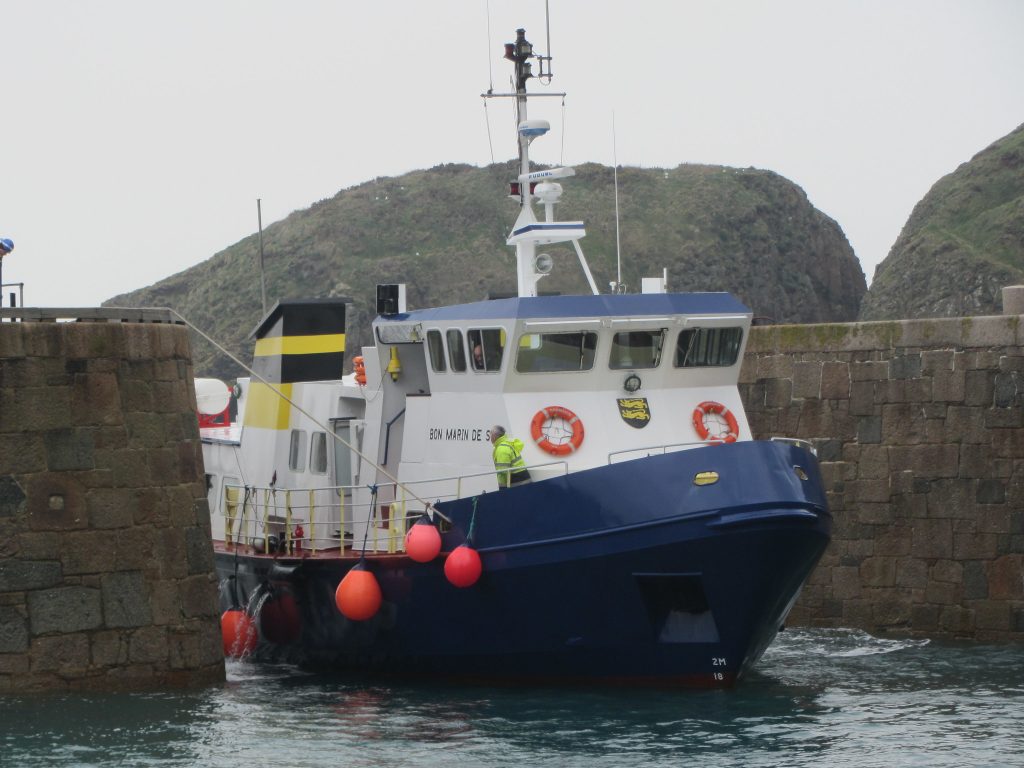 Catherine and her family stayed at Stocks Hotel (stockshotel.com). A family room has a separate interconnecting room with bunk beds and costs from £225 sterling per night bed and breakfast, or from £265 sterling bed, breakfast and dinner. If you stay for four nights or longer, Stocks Hotel will refund the ferry crossing with Sark Shipping Company. *
Getting to Sark: Sark is a car-free and sustainable Channel Island and if you want to travel the slow and green way, take a train to Poole or Portsmouth with South West Trains and then the ferry to Guernsey with Condor Ferries (condorferries.co.uk). Look up the excellent seat61.com for details. Be careful with your timings as there are only a couple of sailings a day from Guernsey to Sark, which you can book through Sark Shipping Company. Return tickets £27.80 adults, £12.90 children*. For more information on Sark, see sark.co.uk and for more information on getting to Guernsey see Visit Guernsey.
You may also enjoy my blog on ethical and sustainable tourism in Jersey.
*Note: Prices may have changed since date of publication.