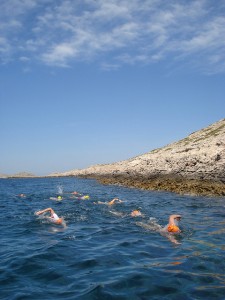 As my four years of writing a regular column for The Irish Times comes to a close, I just wanted to share some of my favourites with you. In no particular order, these are some of my top trips and tips. Just click on the link to take you to the original article now republished here on the blog.
One of the most spectacular has to be the swimming holiday I did in Croatia, training for about four months so that I could swim from island to island every day, achieving 3-4 kms swims through Croatia's magical aqua-maze. Outdoor swimming, and discovering travel in this slow, peaceful way has become a part of my life now, as I constantly crave another swimming holiday in the way others do about skiing.
The most challenging family holiday, and indeed the most memorable, was trekking across the Alpine Mercantour National Park in France with a donkey to carry our bags, and a few maps to guide us from auberge to gite. Feeling like the veritable Von Trapps by the time we had finished, this is pure, family time just walking and talking, cheering each other on when we faded, or dozing on mountain tops before a well earned descent.
Ireland is so full of green gems, it almost makes our emerald shine brighter. There were so many favourites to choose from that I had to put them all on a travel app, called Ireland Green Travel. Some which stand out in our memories  not only for being sustainable beacons, but also for giving that extra special something include Inis Meain Restaurant and Suites, a place so beautiful it brought tears to my eyes. Less chic but just as cool and copped on to  the responsible tourism movement are the yurt camps, Chleire Haven on Cape Clear and Teapot Lane on the Leitrim-Donegal borders. My kids took to horseriding in one of the most friendly and eco friendly riding centres, Slieve Aughty in East Galway, where the owner Esther encouraged us to look our horses in the eyes and talk gently to them, allowing the whole process of riding to be organic and natural.
On the water, there are two kayakers leading the way in greening our tourism industry in Ireland: Jim Kennedy of Atlantic Sea Kayaking, in West Cork, who took me on a stunning nature trip around the islands of West Cork, with some fab seaweed foraging and cooking to make this trip even more memorable. And Nathan Kingerlee of Outdoors Ireland in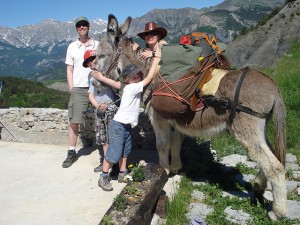 Kerry who showed us Kerry from a kayak, miles away from any tourists into bits of Kerry we never knew existed. Not only does kayaking make me feel young again, these people are committed not only to conservation but also their communities. They also made me smile a lot. And for trips out on the water, one of the most innovative companies I have come across was Dulra Nature Tours in Belmullet, Mayo, who took us on a 'Catch and Cook' weekend, but with so many more surprises thrown in.
Two places in Galway will pull us back again and again, for the sheer friendliness and creativity. As well as their gobsmacking locations. Delphi Mountain Resort in Leenane is the place to bring your kids to be active. You can canoe, climb and surf with them, or you can just leave them to it and chill in the seaweed baths. You can stay in a budget dorm, or treat yourself to a luxury suite. Either way, Delphi is just too cool for school in my boys' books.  And Ballynahinch Castle quite simply wins the crown of Connemara for so many reasons you just have to read the article to find out more. And then just book it.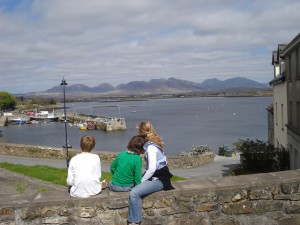 I don't fly very often, but sometimes it just has to be done. Grabbing a bit of sun once in a while is good for us all, but doing it in a green and gorgeous way, while reducing your carbon footprint while you are there, was made possible at the eco-chic Lanzarote Retreats, which we still pine for. And covering issues like the exploitation of the Maasai Mara in Kenya was a good reason for flying too. Spending time with the Maasai was eye opening to say the least. They are natural educators, open to different cultures, and innately generous. We had the honour of hosting one of the elders I met in our home a year after I met them, so that he could share his story with the tourism industry. I am sharing it here. Giving these honourable, dignified people a voice in tourism is what makes my job special, and so I would like to add this article to the list above, and hope it, like others, helps you change the way you travel in small ways.